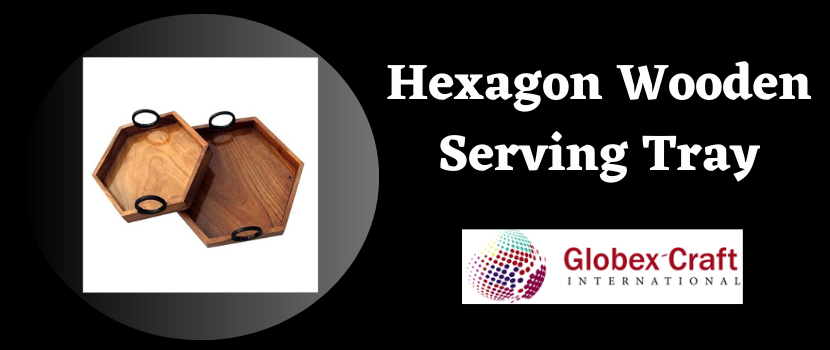 A wooden serving tray is a type of tray that is designed to carry and present food and drinks. It is typically made of wood and can come in a variety of shapes, sizes, and styles. Hexagon wooden serving tray are popular for their rustic and natural appearance and are often used for serving food and drinks in casual or informal settings.
What material is used to make Hexagon Wooden Serving Tray?
Wooden serving trays can be made from a variety of different types of wood, including oak, maple, cherry, and walnut. They can be left natural or stained to enhance the natural beauty of the wood. Some wooden serving trays may also feature decorative accents, such as carved designs, handles, or inlaid patterns.
The usefulness of serving trays:
wooden serving trays are versatile and can be used for a variety of different purposes, including serving breakfast in bed, carrying drinks to a party, or serving snacks during a casual gathering. They are easy to wash and clean. Also a proper maintenance can make them last for many years with proper care.
Things to consider for buying a wooden serving tray
When choosing a wooden serving tray, it is essential to consider different aspects and decorative features that may be included. It is also important to choose a tray that is sturdy and durable to withstand regular use.
If you are planning to buy a wooden serving tray, you should consider the factors mentioned below to ensure that you get the right tray for your needs. Here are some things to keep in mind:
Size: Consider what you will use the tray for and choose an appropriate size. A larger tray may be better for serving multiple items or drinks, while a smaller tray may be more suitable for carrying a single plate or glass.
Material: Different types of wood have different characteristics, such as colour, grain pattern, and durability. Consider the type of wood that the tray is made of and choose one that matches your aesthetic preferences and meets your functional needs.
Design: Wooden serving trays come in a variety of designs, from simple and minimalist to ornate and decorative. Consider the style of your home and choose a tray that complements your décor like a hexagon wooden serving tray.
Durability: Choose a tray that is sturdy and durable enough to withstand regular use. Look for trays that are made of high-quality wood and have strong joints and handles.
Maintenance: Consider how easy the tray is to clean and maintain. Some wooden trays may require regular oiling or waxing to keep them looking their best.
Price: Wooden serving trays can vary in price depending on the size, material, and design. Consider your budget and choose a tray that meets your needs without breaking the bank.
By keeping these factors in mind, you can choose a wooden serving tray that is both functional and stylish.
Numerous wooden tray suppliers can offer varieties as per your budget and preference in style. Ask for hexagon trays made of wood to accomplish your kitchen décor.